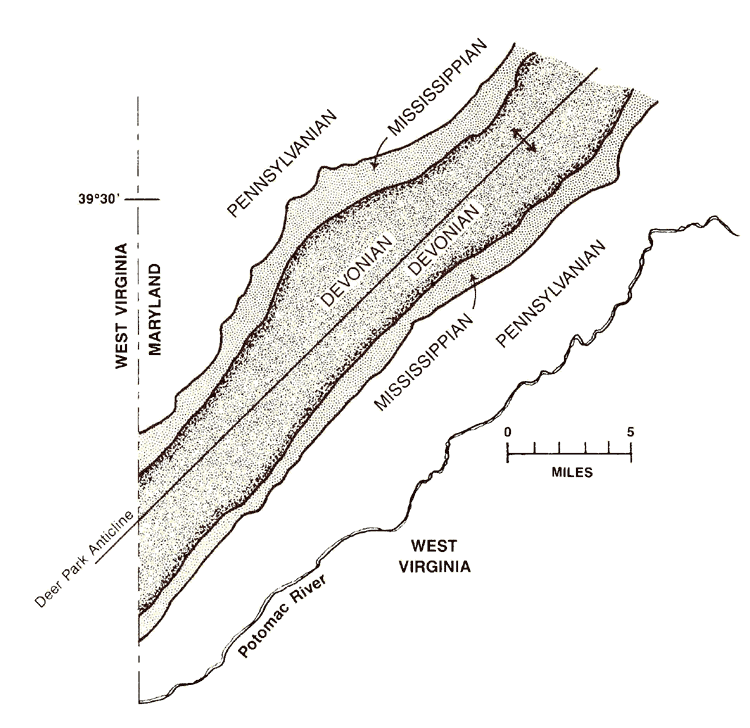 Geologic map of the westernmost county of Maryland, showing that a broad, very thick area of the
Mississippian and Pennsylvanian (younger) rock systems has been worn off by extended erosion.
For additional explanation, see pp. 59-61.
Titlepage design by James I. Newman.
Daniel E. Wonderly

NEGLECT OF GEOLOGIC DATA:

Sedimentary Strata Compared with

Young-Earth Creationist Writings.

Copyright 2006 Edna (Mrs. Daniel E.) Wonderly. All Rights Reserved.

Published by the Interdisciplinary Biblical Research Institute
Hatfield, PA.

ISBN 0_944788_00_9

This work is an attempt to enlist creationists in a serious study of the actual characteristics of the earth's sedimentary strata. Creationist organizations are emphasizing some important truths of creation, but they have neglected the data of earth-science research to such an extent that disgrace has now descended upon the doctrine of biblical creation throughout the nation. In this carefully documented book the author encourages evangelical Christians to take an interest in the real data of earth science, and shows them how they can use such information to alleviate this problem.

---
In keeping with the purpose of this book, it is necessary that the title be somewhat negative in character. However, ou will find that most of the chapters contain large sections of
positive
information on various aspects of the earth's sedimentary cover.
Daniel E. Wonderly has brought to this work almost a lifetime of study in Bible-science relationships. He holds graduate degrees in both theology and science and has had extensive teaching experience in both of these areas. Wonderly has spent a major part of his time in research-science studies during the past 15 years and is the author of God's Time-Records in Ancient Sediments(Crystal Press, 1977). He is an active member of The Geological Society of America and of several other professional societies.
---
ACKNOWLEDGMENTS
I want to express my appreciation particularly to Dr. George W. Andrews, an invertebrate paleontologist employed by the U.S. Geological Survey, and to Dr. Stephen O. Moshier, a carbonate sedimentologist who is an Assistant Professor of Geology in the University of Kentucky. George Andrews supplied helpful guidance and checked the parts related most closely to paleontology, and Stephen Moshier thoroughly checked practically the entire manuscript, making many specific suggestions which were appreciated and used.
Both Dr. Andrews and Dr. Moshier have been closely involved in the work of the Inter-Varsity Christian Fellowship, in addition to their professional work in the earth sciences. Before joining the faculty of the University of Kentucky, Dr. Moshier was extensively involved in the Applied Carbonate Research Program of Louisiana State University after having served as a petroleum geologist in the Mobil Oil Corporation for three years. He has now received his Ph. D. degree in geology from Louisiana State University. His dissertation was on one phase of carbonate petrology.
I also wish to express special appreciation to the following: Dr. Robert C. Newman of Biblical Theological Seminary for many useful suggestions; Dr. Edwin Myers for his willingness to allow extensive use of his thesis in the early pages of this work; my wife Edna for her constant interest in and help with this project; and SPCK/Triangle Books, of London, for their permission to quote the extended section from Alan Hayward's Creation and Evolution: The Facts and the Fallacies,1985, used in the note 3 of chapter 2 of this book.
---
FOREWORD
For nearly two centuries now Christians have been debating the age of the earth. Is it merely some few thousand years old, as the Bible seems to tell us? Or is it some billions, as science seems to indicate?
Some have used this conflict to cast doubt on Scripture; others have come to view modern science with suspicion. Among evangelical and fundamental Christians in particular, the debate has been especially sharp. Charges of compromise with evolutionism or of obscurantism have frequently been flung back and forth by proponents of young and old earth, creating more heat than light, and raising emotions when careful consideration of methodology and evidence would have been more appropriate.
How are we to handle the biblical and scientific data? If we believe in the inerrancy of Scripture (as do the author and myself), does it follow that we must reject any scientific evidence that points to an old earth? We think not. And in this we are joined by many evangelical and fundamental leaders past and present who are old-earth creationists.
Are we just being concessive or compromising with evolution? No, we are recognizing that the Bible itself teaches that the world around us is a revelation from God (e.g., Ps. 19:1-4; Rom. 1:20). Therefore the evidence regarding origins which God's created world provides is to be used with Scripture in constructing a proper view of how God made all things.
In this endeavor, we wish to avoid two errors. The one is to take the simplest model which science proposes for origins and force the Bible to conform; the other is to take the simplest model which biblical interpreters propose and force the scientific data to conform. If indeed both God's word and God's world are his revelation to us, then both must be used together to construct an accurate model of origins. This is just the same as the procedure of harmonization used by Bible believers in reconciling Gospel passages which narrate the same event.
But is this not to deny the reformation principle of sola scriptura?No, it is not. Biblical scholars, including those who formulated the sola scripturaprinciple, regularly use extrabiblical information from grammar and history to help understand Scripture, and this sometimes leads them to propose a meaning for a passage which would not occur to someone unfamiliar with such outside sources. If we are correct that God's world is also his revelation to us, there is all the more reason to use such evidence in understanding what God has done in creation.
Of course, it does not follow from this that the majority view among scientists on some point is necessarily the truth; but neither does this follow for biblical interpreters.
The data of Bible and nature must be the foundation of our model-making on origins, not particular interpretations. For this reason it is all the more necessary that we know what the data are in both areas:
This is exactly what Dan Wonderly has provided for us in one specific area of origins, the scientific data relevant to the age of the earth. It is especially important that young-earth creationists be aware of this data in view of the tendency of many in the past to neglect it. It would be a serious tragedy if we were to keep people from coming to Christ because we convinced them that the Bible teaches a young earth while they remained convinced that the earth is actually quite old.
But doesn't the Bible expressly teach that the earth is only a few thousand years old? No, it doesn't. A foreword such as this is not the place for a detailed response. I have written on the subject in Genesis One and the Origin of the Earth (Inter-Varsity, 1977; reprinted IBRI, 1991) and in an article "The Evidence of Cosmology" in Evidence for Faith edited by John Warwick Montgomery (Probe/Word, 1991). Suffice it to note here that the Bible nowhere gives an explicit summation of the time from creation to some datable event like the time of Abraham, and that the Bible provides a number of hints pointing to an old earth. We believe in a relatively recent creation of man, and in a special creation of many types of plants and animals prior to the creation of Adam and Eve, but we cannot find definite statements in the Bible concerning when the earth was created.
But, if the earth really is old, why didn't God say more about it in the Bible? This situation is just like that which occurs frequently in Gospel harmonization. If there really were two demoniacs at Gadara (Matt. 8:28-34), why didn't God mention it in the parallel accounts in Mark and Luke? In both cases, I answer, "I don't know why God did what he did, but I don't explain away the evidence in either case." Why then should we object if only one of God's two parallel accounts of creation found in general and special revelation contains specific information pointing to great age?
There is a tendency abroad among Bible believers which we need to recognize lest it lead us into the sin of Job's comforters. These pious men, not being aware of certain data to which Job had access, took the easy way out and charged Job with fearsome sin in order to make it easier for them to defend God. But God himself was not pleased with them, and eventually shamed them by having Job intercede for them. In the same way, many Christians have said, "We will play it safe and use the simplest possible explanation of Genesis one." But since God has given us additional information concerning the creation, are we not being irresponsible (like Job's friends) if we formulate our own views without taking into account this other data God has made available to us? In all of our endeavors in this fallen world, we must seek the truth with all of our strength and continually recognize our need to depend on God for guidance in interpret ing his revelation:
Dan Wonderly has provided us with important evidence in this book to help us do just that. May the Lord guide you as you read.
Dr. Robert C. Newman
Professor of New Testament,
Biblical Theological Seminary
Director,
Interdisciplinary Biblical
Research Institute
---
CONTENTS
INTRODUCTION

CHAPTER 1: ANCIENT EROSION, FORMATIONS, AND DEPOSITION OF STRATA 15
Some Reasons for the Grading of Various Formations into Those Adjacent to Them 22
Some Examples of Ancient Erosion in the Sedimentary Cover of the Earth 23

1. Carbonate Hardground Surfaces 24
2. Ancient Erosional Features of the Grand Canyon 27
3. Ancient Erosion Observable in the Appalachians 30
CHAPTER 2: SIGNIFICANCE OF THE GREAT THICKNESSES OF
SEDIMENTARY ROCKS IN THE APPALACHIAN REGION AND OTHER
AREAS 39

1. Quantities of Lithified Sediments 39
2. Discussion (particle settling, etc.) 40
3. Unsupportable Hypotheses of Limestone Deposition 43
4. In Situ Growth Structures (in limestone) 45
5. Analogical Theory and Created Order 47
CHAPTER 3: NEGLECT OF DATA CONCERNING ROCK LITHIFICATION 49

1. Misconceptions (erroneous ideas of lithification) 49
2. Rock Cementation Processes 49
3. Methods and Rates of Rock Cementation 51
4. Postulating an Unnatural "Plumbing System" 53
CHAPTER 4: CASTROPHISM AND "ABSENT' STRATA 57

1. "Flood Geology" and Scientific Models 57
2: The Rumored Revival of Catastrophism 57
3. Why We Do Not Find All of the Rock Strata Systems Everywhere on Earth 58
CHAPTER 5: MAJOR FACTORS WHICH HAVE CONTRIBUTED TO THE
NEGLECT OF GEOLOGICAL DATA BY CREATIONIST LEADERS 65

1. Early Influences and Assumptions 65
2. Influence from Current Philosophy of Science 66
3. Lack of Acquaintance with the Various Branches of Geology 68
4. Isolation from the Earth-Science Professions 70
5. Using Only Small Packets of Data 71
CHAPTER 6: RAPID BURIAL OF ORGANISMS AND SEDIMENTARY
STRUCTURES TO BE FOSSILIZED 73

1. Introduction (popular hypotheses) 73
2. Principles Having to Do with Burials 74
3. Examples of Known, Large Sediment Flows 75
4. Sediment Flows as Agents of Terrestrial Burial 77
5. Fossils Buried in Diatomaceous Deposits 78
6. Burial of Non-living, Sedimentary Structures 80
CHAPTER 7: FOSSIL DISTRIBUTION AND THE "ECOLOGICAL ZONING"
HYPOTHESIS 83

1. Great Differences between Ancient and Modern Animals 84
2. A Great Fossil Group which Did Not Sink during the Flood 86
3. More Concerning the Fossils which Supposedly "Stayed Down" 88
4. Microfossils -- No Possible Way to Have Hidden 88
5.The "Ecological Zoning" Hypothesis 91
CHAPTER 8: EVAPORITES—OCEAN-FLOOR AND CONTINENTAL TYPES
OF SALT DEPOSITS 97

1. Halite (sodium chloride) Deposits of Ocean Floors 97
2. Precipitation of Evaporites in Deep Water on the Continents 98
3. Organic Matter in Ancient Evaporite Deposits 99
CHAPTER 9: CYCLIC EVAPORITE STRATA UNDERLYING LARGE AREAS
ON THE CONTINENTS 105

1. Introduction and Regional Setting (Alberta, Canada) 105
2. The Basal Laminites of the Muskeg Formation 108
3. The Limestone Formation and Coral Reefs on which the Muskeg Evaporites Were Deposited 110
4. Desert-Coast Evaporite Cycles Covering the Reefs 114
5. Cyclic Evaporites and Reefs in the Michigan Basin 125
CHAPTER 10: CONCLUSIONS 127
APPENDIX 133

REFERENCES CITED

GLOSSARY OF GEOLOGICAL TERMS

SUBJECT INDEX

LIST OF FIGURES

---



Note: High resolution (400 ppi) figures are available here.


Figure 1. Some well-known sharp-contact surfaces and erosional unconformities in the central Appalachians 17 CHAPTER 1

Figure 2. A vertical-section diagram through the central part of the Appalachian Highland region 20-21 CHAPTER 1

Figure 3. Diagram of a vertical section of two carbonate hardground layers and the sediments between them 25 CHAPTER 1

Figure 4. A sequence of unconformities and ancient, buried, erosion surfaces in the Mississippian and Lower Pennsylvanian rock systems of West Virginia 35 CHAPTER 1

Figure 5. Geologic map showing an example of the removal of two entire geologic rock systems by ancient erosion 60 CHAPTER 4

Figure 6. Photographs of three vertical-column thin sections of evaporite well cores of the Delaware Basin, west Texas 102 CHAPTER 8

Figure 7. Map of Devonian, Elk Point Basin, with its subbasins, Alberta, Canada 107 CHAPTER 9

Figure 8. A vertical section through the deeper rock layers of one of the Rainbow area oil fields, Alberta, Canada 109 CHAPTER 9

Figure 9. Diagram of the layers of a sabkha cycle of the type found in the Rainbow subbasin of Alberta, Canada 117 CHAPTER 9

Figure 10. Location and structure of the Trucial Coast, Saudi Arabia 119 CHAPTER 9

Appendix. Grading of formations into each other 133 APPENDIX

Return to IBRI homepage